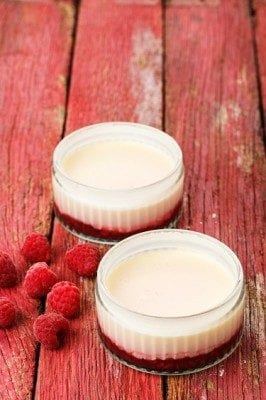 Print Recipe
Raspberry Lemon Possets
"Posset" refers to an old English drink made in a way that's similar to this simple pudding. This dessert is delightful and fresh. Try it this Easter weekend!
Ingredients
2 ¼ cup (half a bag) Snowcrest Frozen Raspberries
1 ¼ cup (300 ml) sugar
Squeeze of lemon juice
1 ⅓ cup (560 ml) whipping cream
⅔ cup (160 ml) granulated sugar
3 lemons, grated zest and juice
Directions
For the raspberry sauce:
Place three quarters of the raspberries into a large saucepan.  Add the sugar and lemon and stir well. Cook for 1-2 minutes, until the mixture thickens.
Pass through a fine sieve to remove the seeds.
Stir in the remaining raspberries. Divide the raspberry sauce evenly among four glasses. Place in the refrigerator.
For the Possets:
Bring cream and sugar to boil over medium-high heat, stirring until sugar dissolves.
Boil 2 to 3 minutes, stirring constantly, adjusting heat as needed to prevent mixture from boiling over.
Remove from heat.
Stir in grated lemon zest and juice, cool 10 minutes. Stir mixture again and divide evenly into the glasses over the raspberry sauce.
Cover and chill possets until set, at least 4 hours or overnight.
Decorate with a fresh mint leaf.