sustainability
MEETING OUR NEEDs KEEPING TOMORROW IN MIND
We recognize the delicate balance and the ongoing relationship that exists between our food processing operations and our global and local environments. At Snowcrest Foods we take sustainability and recyclability very seriously and are continuously focused on making improvements to minimize environmental impact.
Now operating from within a brand new facility we have increased production efficiency and reduced resource consumption considerably.
We reduce, reuse and recycle wherever we can within our production facility.
---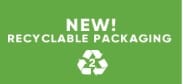 In 2019 we launched new retail packaging HDPE 2 which is fully recyclable in most areas. Check with your local recycling facility to find out how to recycle #2 packaging.
---
At Snowcrest Foods, we've developed ways to redirect fruit that would normally go to waste. Through the launch of the Perfectly Imperfect™ retail line, we are saving perfectly wonderful fruits that simply didn't make the grade due to size or look.