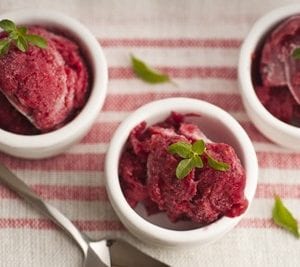 Print Recipe
Snowcrest Fruit Frozen Yogurt
This is almost like ice cream and can be any fruit flavour you want it to be!
It's important to remember that the fruit should not be thawed prior to use, and the yogurt should not be pulled from the fridge until ready to use.
Ingredients
11 oz approximately 3 or 3.5 cups (750 or 875 ml) of your choice of any Snowcrest frozen berries, with other fruits the number of cups may vary based on fruit.
16 oz approximately 2 cups (500 ml) vanilla yogurt depending on density of the yogurt.
Directions
Place your choice of Snowcrest frozen fruit in a food processor or blender. Blitz for 30 seconds, then add the cold vanilla yogurt and blend until smooth.
It can be eaten straight away or placed in a covered bowl in the freezer, where it will keep for a week.
For a healthier option you can try making this with a nonfat vanilla yogurt.