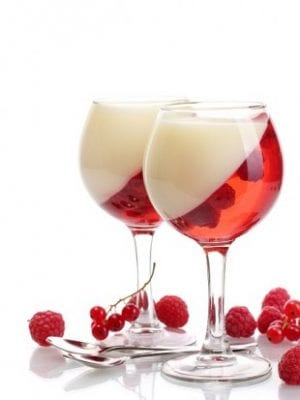 Print Recipe
Raspberry-Lemon Yogurt Mousse
This light and refreshing dessert, part of our Healthy Holiday Recipes, is sure to be a hit this season!   Garnish with a couple of mint leaves or your favourite seasonal sprinkles for that extra touch.
Directions
Homemade Raspberry Juice:
One package of Snowcrest Frozen Raspberries with 2 cups (480 ml) water.
Once simmering, mash them with a potato masher and cook for 5 -10 minutes to extract the raspberry flavour.
Strain the liquid in a cheesecloth lined strainer, gather the cheesecloth ends together and squeeze until all the juice is extracted.
Raspberry Jello:
Put ⅓ 

of a cup (80 ml) of raspberry juice in a large glass measuring cup and add 1 packet of gelatin. Stir it around until the gelatin is dissolved.

Put into a saucepan and bring to a boil. If the juice is too tart add about ⅛ cup (30 ml) honey (or to taste)
Once boiling, take off the stove and add enough cold juice to make 2 cups, stir it well.
Take 6 to 8 parfait glasses (or glasses of your choice) and fill each until half full. Place glasses on an angle (see tip below) and refrigerate until firm, but not set, about an hour. At this point, top each glass of jello with a few frozen raspberries. The jello should be soft enough that the berries sink in an inch or so.  Place back into the fridge until set, about 2 to 3 hours.  Once the jello is set, you can start preparing the Lemon Yogurt Mousse.
Tip: To keep the glasses sturdy, place them on an angle in an empty egg carton.
Lemon Yogurt Mousse:
2 tsp (10 ml) unflavored gelatin
2  ½ tbsp. (40 ml) cold water
1 cup (240 ml) freshly squeezed lemon juice
⅓

 cup (80 ml) honey

½

tsp (3 ml) minced lemon zest

2 tbsp. (30 ml) sugar
3 egg whites
2 cups (240 ml) plain non-fat yogurt
Combine the gelatin and water in a saucepan and let soften for 1-2 minutes.
Place pan on the stove over low heat and cook, stirring, until gelatin is thoroughly dissolved, about 4-5 minutes.
Stir in the lemon juice and slowly add the honey until it dissolves. Stir in the lemon zest and remove the pan from the heat.
Beat the egg whites in a mixing bowl until soft peaks form. Add 2 tablespoons of sugar and continue beating until stiff peaks form. Set aside.
Fold the yogurt into the gelatin mixture until well blended. Fold the beaten egg whites into the yogurt mixture.  Take your already prepared raspberry jello out of the fridge and stand each glass upright.  Top off each glass with the Lemon Yogurt Mousse.   Set glasses back in the fridge (standing upright) and let set, about one hour.   Keep chilled until ready to serve.