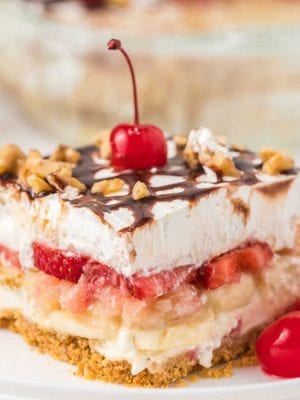 Print Recipe
No bake Banana Split Cake
Get retro with this no bake classic!
Ingredients
3 cups (600 g) Snowcrest® Sliced Strawberries and Bananas
2 cups (200 g) graham cracker crumbs
¾ cup (150g) white sugar
1 stick (1/2 cup) butter, melted
2 (8 ounce) packages cream cheese, softened
1 ½ cups (165g) confectioners' sugar
1 can (398 mL) crushed pineapple, drained
4 cups (1 L) container frozen whipped topping, thawed
¼ cup (28 g) coarsely chopped peanuts
¼ cup (60 mL) chocolate syrup
12 to 16 maraschino cherries, drained
Directions
In a food processor, pulse the graham crackers, white sugar, and melted butter until combined. Press into the bottom of a 9×13 inch baking dish in a flat layer. Refrigerate until set.
In a medium bowl, beat together the cream cheese and confectioners sugar until well blended. Spread the cream cheese mixture in an even layer over the graham cracker crust.
Over the cream cheese layer, place bananas, strawberries and pineapple.
Cover the top with a layer of whipped topping.
Drizzle the top with chocolate syrup.

Top the dessert with chopped nuts and cherries.

Refrigerate until completely chilled.