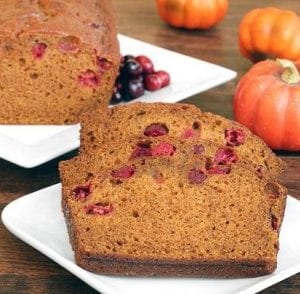 Print Recipe
Cranberry-Pumpkin Honey Spice Bread
Great for a Holiday brunch or an Open House, try our Cranberry-Pumpkin Honey Spice Bread.  Part of our Healthy Holiday Recipes.
Ingredients
½ cup (120 ml) vegetable oil or olive oil
2 cups (480 ml) whole wheat pastry flour (or white whole wheat flour)
1 tsp (5 ml) baking soda
½ tsp (3 ml) cinnamon
½ tsp (3 ml) nutmeg
½ tsp (3 ml) ground cardamon
1 cup (240 ml) honey or agave nectar (or combination of both)
1 cup (240 ml) pumpkin puree
2 eggs
2 tsp (10 ml) lemon juice
1 tsp (5 ml) pure vanilla extract
1 cup (240 ml) Snowcrest Frozen Cranberries
½ cup (120 ml) chopped pecans or chopped pumpkin seeds (optional)
Directions
1. Preheat oven to 350 degrees. Grease and line a 9 inch loaf pan with parchment paper, leaving 1 inch of parchment paper hanging over two sides of the pan. Set aside.
2.  In a medium bowl, combine the flour, baking soda, salt and spices. Stir to combine.
3.  In a separate large bowl, whisk together oil, honey or agave, eggs and vanilla until smooth. Add pumpkin puree and lemon juice. Whisk to combine.
4.  Add the dry ingredients to the wet ingredients. Stir until just combined (be sure not to over stir to avoid drying out the batter). Add Snowcrest Frozen Cranberries. Stir lightly until combined. If desired add chopped pecans or pumpkin seeds
5.  Pour batter into prepared pan. Bake 70-75 minutes or until slightly browned and a toothpick inserted in the center comes out clean. Err on the side of under-baking the bread to ensure that it stays moist.
6.  Let cool in pan for 10 minutes. Use the parchment overhangs to remove loaf from the pan. Serve in big slices and enjoy!