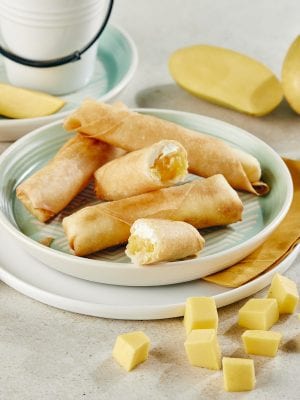 Print Recipe
Mango Lumpia
Ingredients
1 cup (140 g) Snowcrest® Mango Chunks defrosted
8-12 spring roll wrappers
4 ounces cream cheese
1/4 cup white sugar
1-2 cups oil for frying
Directions
Place Mango Chunks in a bowl to defrost while you prepare the rest of the ingredients. Separate spring roll wrappers into individual sheets and cover with a damp paper towel or kitchen towel.
On a flat work surface lay one spring roll wrapper in a diamond shape with one corner facing you. Cut and place a thin strip of cream cheese, or spread a small amount,  lengthwise on top of the wrapper, top with mango chunks, 4-5 pieces then fold the bottom corner over the filling and then fold in sides and roll.
In a skillet over medium heat, heat about 1 inch deep of oil to 350 F.  Shallow fry the until golden.
With tongs, remove from pan to drain in a wire rack. Sprinkle with sugar while hot and serve immediately.