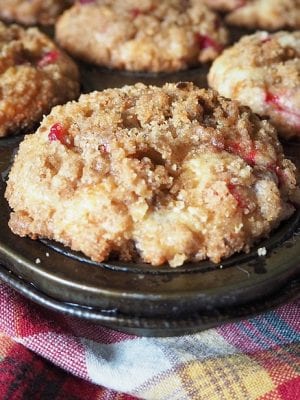 Print Recipe
Cranberry Muffins
Ingredients
1 ½ cups (185 g) Snowcrest® Cranberries
½ cup (115 g) unsalted butter
½ cup (100 g) granulated sugar
¼ cup (50 g) brown sugar
2 eggs
½ cup (120 g) yogurt
2 tsp (10 ml) vanilla extract
zest of 2 oranges
1 ¾ cups (220 g) all-purpose flour
1 tsp (4 g) baking soda
1 tsp (4 g) baking powder
½ tsp (2 g) ground cinnamon
½ tsp (2 g) salt
2 tbsp (30 ml) orange juice
2 tbsp (30 ml) milk
Directions
Preheat the oven to 425°F and grease a 12 cup muffin tin.
In a large bowl, mix beat together the butter and sugars until smooth and creamy. Add eggs, yogurt, orange zest and vanilla extract and beat again.
In another large bowl, toss together the flour, baking soda, baking powder, cinnamon and salt.
Add the wet ingredients to the dry and stir in the cranberries.
Spoon batter evenly into the prepared muffin cups.
Bake for 5 minutes at 425°F, then keeping the muffins in the oven, lower the oven temperature to 350°F and bake for 18-20 more minutes.
Cool muffins in the tin on a wire rack.