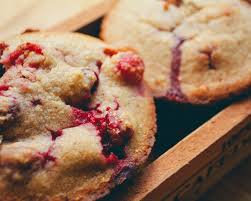 Print Recipe
Raspberry Muffins
Ingredients
1 cup (125 g) Snowcrest® Raspberries
½ cup (125 g) plain yogurt
3 tablespoons (45 ml) vegetable oil
1 tablespoon (15 ml) lemon juice
2 egg whites
1 ½ cups (192 g) all-purpose flour
¾ cup (96 g) white sugar
2 teaspoons (8 g) baking powder
¼ teaspoon (1 g) salt
1 teaspoon (2 g) grated lemon zest
Directions
Preheat oven to 400°F. Grease a 12 cup muffin tin.
In a large bowl, mix together the yogurt, oil, lemon juice and egg whites.
In a separate bowl, stir together the flour, sugar, baking powder, salt and lemon zest.
Add the wet ingredients to the dry and mix.
Gently stir in the frozen raspberries.
Spoon batter evenly into the prepared muffin cups.
Bake for 15 to 17 minutes in the preheated oven until golden.
Cool muffins in the tin on a wire rack.