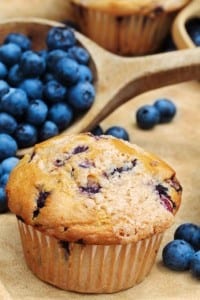 Print Recipe
Orange Blueberry Muffins
Brighten your day with these zesty muffins.  They are bursting with orange flavour!
Ingredients
1 cup (240 ml) instant oats
1 cup (240 ml) orange juice
3 cups (720 ml) all-purpose flour
1 cup (240 ml) sugar
2 ½ tsp. (12.5 ml) baking powder
½ tsp. (2.5 ml) baking soda
1 tsp. (5 ml) salt
1 cup (240 ml) vegetable oil
3 eggs
1 ⅔ cups (400 ml) Snowcrest Frozen Blueberries (do not thaw)
1 ½ tsp. (7.5 ml) orange zest
½ (120 ml) cup chopped walnuts or pecans
⅓ (80 ml) cup sugar
1 tsp. (5 ml) ground cinnamon
Directions
In a small bowl, combine the instant oats and orange juice.
In a large bowl, combine the flour, sugar, baking powder, baking soda and salt.
Beat the eggs and combine with the oil and oat mixture; stir into dry ingredients just until moistened.
Fold in Snowcrest Frozen Blueberries and orange zest.
Line muffin pans with paper-liners; fill each liner two thirds full. If desired, combine the topping ingredients (nuts, sugar, cinnamon); sprinkle over batter.
Bake at 400 degrees for 15-20 minutes or until a toothpick comes out clean.
Cool for 5 minutes then remove from pans and place on wire racks.