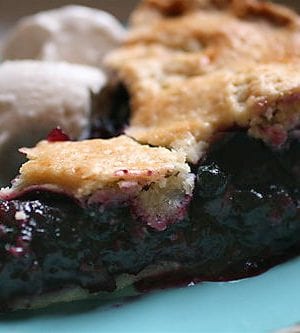 Print Recipe
Wild Blueberry Pie
Ingredients
6 cups (900 g) Snowcrest® Wild Blueberries (thawed)
⅓ cup (45 g) flour
1 cup (200 g) sugar
¼ cup (55 g) brown sugar
½ tsp (2 g) cinnamon
½ tsp (2 g) nutmeg
1 tsp (5 g) finely chopped lemon zest
4 tbsp (60 ml) lemon juice
3 tbsp (42 g) butter
2 premade sweet pastry pie crusts
Directions
Whisk together the flour, sugar, brown sugar, cinnamon and nutmeg.
In a large saucepan, bring the blueberries, lemon zest and lemon juice to a gentle boil.
Add the flour, sugar and spice mixture and cook for 1 minute until thickened.
Remove from heat and stir in the butter.
Cool the filling to room temperature before adding to the pie crust. This is very important or your bottom pie crust will be soggy. Pour into the pie crust.
Top with second pastry round, tucking the edges of the dough under the bottom crust and flute the edges together.
Brush with egg wash made by whisking 1 large egg yolk & 1 to 2 tablespoons of water.
Lightly sprinkle sugar over the top of the egg washed pie.
Chill the pie for 20-30 minutes in the fridge and bake at 400°F for about 20 minutes, then reduce heat to 350°F. If the crust begins to get too dark around the sides, cover the edges with strips of aluminum foil and continue baking until the rest of the pie is completely baked.
Cool completely before serving.