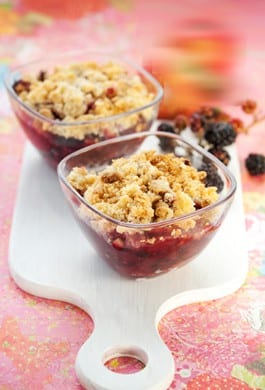 Print Recipe
Berry Blend Crisp
Ingredients
4 ½ cups (1250 ml) frozen Snowcrest Berry Blend
4 tbsp (60ml) white sugar
2 cups (500 ml) all-purpose flour
2 cups (500 ml) rolled oats
1 ½ cups (375 ml) packed brown sugar
1 tsp (5 ml) ground cinnamon
½ tsp (2.5 ml) ground nutmeg
1 ½ cups (375 ml) butter
Directions
Preheat oven to 350 degrees F (175 degrees C).
In a large bowl, gently toss together Snowcrest Berry Blend and white sugar.
In a separate large bowl, combine flour, oats, brown sugar, cinnamon, and nutmeg. Cut in butter until crumbly.
Press half of mixture in the bottom of a 9×13 inch pan. Cover with berries. Sprinkle remaining crumble mixture over the berries.
Bake for 30 to 40 minutes, or until fruit is bubbly and topping is golden brown.
Optional: Serve warm with ice cream or frozen yogurt.