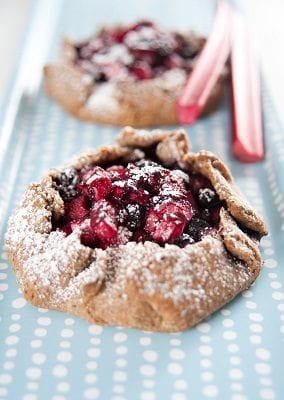 Print Recipe
Berry Rhubarb Whole Grain Tart
Easily impress with these tasty tarts. Also try them with Snowcrest Strawberries instead of Snowcrest Berry Blend.
Ingredients
5 ½ cups (680 grams) Snowcrest Frozen Rhubarb
½ pound (250 grams) Snowcrest Frozen Berry Blend
1 cup (240 ml) all-purpose flour, plus more for work surface
2 cups (480 ml) sugar, plus more for sprinkling
1 recipe of whole grain pie dough
Directions
1. Combine Snowcrest Frozen Rhubarb, Berry Blend, 1/2 cup flour, and sugar in a medium bowl; set aside.
2. Divide dough evenly into 8 pieces. On a lightly floured surface, roll out each piece of dough into a circle about 7 inches in diameter and 1/8 inch thick. Chill dough for about 30 minutes or until cool and easy to work with.
3. Put 1 tablespoon flour in the center of each unbaked tart shell. Cover with about 1/2 cup rhubarb-berry filling, spreading it out to about 1 inch from edge of shell. Fold edges of the shells over the filling, leaving an opening in the center; lightly brush between the folds with water, then press gently on folds so that the dough adheres together. Transfer the filled tarts to two parchment-lined baking sheets, making sure to place them several inches apart. Return to the refrigerator to chill at least 30 minutes.
4. Preheat oven to 400 degrees. Remove the tarts from the refrigerator, brush them with water, and sprinkle with sugar. Bake until the crust is golden brown, about 30 minutes, rotating pans halfway through. Reduce heat to 350 degrees, and continue to bake until the juices are bubbly and just starting to run out from center of each tart, about 10 to 12 minutes more, rotating pans as needed. Transfer immediately to a wire rack, and let cool before serving