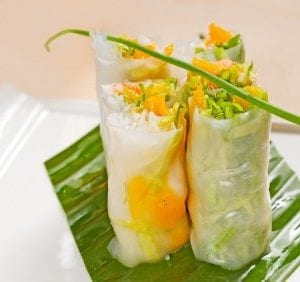 Print Recipe
Vietnamese Style Mango Summer Rolls
Vietnamese Style Mango Summer Rolls, a great appetizer for your Holiday gatherings: part of our Healthy Holiday Recipes.
Ingredients
4 ounces dried rice sticks or vermicelli noodles
1 ½ cups (360 ml) Snowcrest Frozen Mango Chunks, thawed and cut into strips
1 large carrot, julienned
1 large cucumber, julienned
12-18 mint leaves
Fresh cilantro
1 package round rice paper wrappers (called 'bahn trang')
Directions
Bring a small pot of water to boil. Place the rice vermicelli noodles in a large heat-proof bowl and pour the boiled water over the noodles. Allow the noodles to soak for about 3 minutes. Strain noodles, rinse under cold water, and strain again.
Fill a large mixing bowl with room temperature water.
Dip the rice paper wrappers in the water and allow them to soak for 30 to 40 seconds, making sure all sides are wet and the wrapper is quite softened, shake off excess water. Lay the wrapper flat on a clean surface, such as a cutting board. Lay a small bunch of vermicelli noodles in the bottom 1/3 of the wrapper. Lay strips of carrot, cucumber, and mango horizontally over the noodles. Top with mint leaves and cilantro.
Fold the bottom of the rice paper over the filling and begin rolling tightly. Fold the left and right sides of the wrapper over the filling. Finish rolling tightly. Lay the finished summer roll seamside-down on a plate and cover with a slightly damp towel.
Repeat steps 3 and 4 with the remaining wrappers and filling.
Cut spring rolls in half immediately before serving.
Serve the spring rolls with your choice of dipping sauce (two recipe ideas below). To store, place a damp paper towel over the spring rolls, cover them with plastic wrap and refrigerate.
Sweet Chili Dipping Sauce Recipe:
4 tbsp (60 ml) light soy sauce
4 tbsp (60 ml) rice vinegar
2 tbsp (30 ml) sugar
2 tbsp (30 ml) warm water
1 garlic clove peeled and crushed
Red pepper flakes or chopped fresh chili to taste
Whisk ingredients together and serve in a side dish.
Peanut Dipping Sauce:
2 tbsp (30 ml) peanut butter
2 tbsp (30 ml) water
1 tbsp(15 ml) soy sauce
2 tsp (10 ml) honey
2 tsp (10 ml) white rice vinegar
1 tsp (5 ml) chili sauce
Whisk all ingredients together and serve in a side dish.