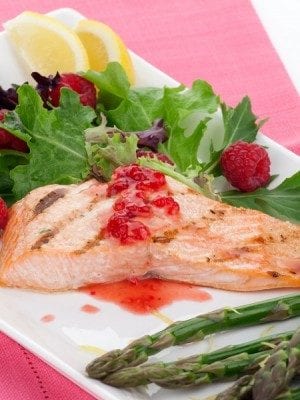 Print Recipe
Grilled Salmon with Raspberry Vinaigrette
If you enjoy fishing or know someone who does, chances are you have some salmon in your freezer waiting to be cooked! This time compliment your salmon with our new Raspberry Vinaigrette recipe.
Ingredients
150 grams Snowcrest Frozen Raspberries
1 shallot, chopped
⅛ cup Dijon mustard
⅛ cup honey
⅓ cup extra virgin olive oil
¼ cup raspberry or white wine vinegar
Salt and pepper
4 salmon fillets
Vegetable oil
Directions
Place Snowcrest Frozen Raspberries, shallot, Dijon mustard and honey into a food processor or blender.
With the food processor running, slowly add the olive oil and process until combined (about 1 minute). Add vinegar and process until well combined. Add salt and pepper to taste. Tip: you can add water to the dressing if you find it is too thick.
Lightly brush salmon with vegetable oil, then season with salt and pepper.
Grill, bake or broil until just done. It takes about 10 minutes of cooking time per inch of thickness.
Heat ½ cup of the raspberry vinaigrette.
Arrange the salmon fillets on dinner plates and spoon the warmed vinaigrette over the top.
Tip: save the remaining raspberry vinaigrette for another use, such as a fresh green salad.