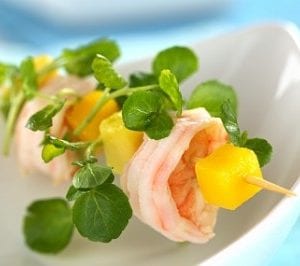 Print Recipe
Shrimp and Mango Kabobs in Ginger Marinade
These Shrimp and Mango Kabobs are great for a New Years Eve appetizer.  They are full of flavour and part of our Healthy Holiday Recipes!
Ingredients
2 tbsp. (30 ml) minced ginger
2 garlic cloves, minced
1/4 cup (60 ml) rice wine vinegar
½ cup (120 ml) lime juice
2 tbsp. (30 ml) brown sugar
¼ cup (60 ml) vegetable oil
1 tbsp. (15 ml) sesame oil
1 tbsp. (15 ml) chopped cilantro
2 lbs large shrimp, peeled and deveined
2 cups (480 ml) Snowcrest Frozen Mango chunks, thawed
Directions
In a large bowl, whisk together ginger, garlic, rice wine vinegar, lime juice, brown sugar, oil, sesame oil, and cilantro. Add the shrimp. Toss to coat shrimp; cover and refrigerate for 1 hour.
Remove shrimp from marinade. Pour marinade into a small saucepan. Bring to a boil and boil for one full minute. Remove from heat.
Alternately thread shrimp and Snowcrest Frozen Mango Chunks on skewers. Place skewers in center of cooking grate. Grill 4 to 6 minutes until shrimp turn pink and opaque, turning once halfway through grilling time, basting with reserved marinade. Serve warm.