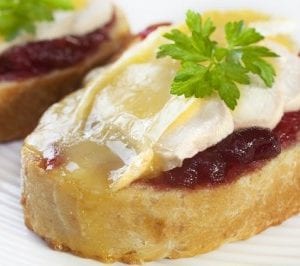 Print Recipe
Thanksgiving Turkey Brie Cranberry Sandwich
Need a new idea for your turkey leftovers?  Try our Turkey Brie Cranberry sandwich recipe.   It's Thanksgiving dinner all over again!
First of all start by making your own cranberry sauce with Snowcrest Frozen Cranberries.
Ingredients
1 cup (240 ml) sugar
1 cup (240 ml) water
4 cups (1 300 gram bag) Snowcrest Frozen Cranberries
Optional: Pecans, blueberries, cinnamon, nutmeg, allspice.
Directions
In a saucepan bring to a boil water and sugar, stirring to dissolve sugar. Add cranberries, return to a boil. Reduce heat, simmer for 10 minutes or until cranberries burst.
If you wish to add any optional ingredients, now is the time.  We recommend half a cup of roughly chopped pecans.  You can add up to a cup (100 grams) of Snowcrest Frozen Blueberries for added sweetness. Spices such as cinnamon, nutmeg or allspice can be added, as well.
Remove from heat. Cool completely at room temperature and then chill in refrigerator. Cranberry sauce will thicken as it cools
Now it's time to make your Turkey Brie Cranberry Sandwich:
Ingredients:
French Bread
Cranberry sauce
Leftover Turkey
Brie cheese
Gravy
Salt and pepper to taste
Directions:
We recommend an open faced sandwich on French bread.
First layer your bread with your fresh made cranberry sauce, add turkey (as much as you want!) and a nice layer of brie cheese.
Set your oven to low broil.
Place your open faced sandwiches on a cookie sheet and broil for approximately 2- 5 mins, or until cheese is melted (all ovens heat at different rates).  Make sure to keep a close watch so that the sandwiches don't burn.
Once the cheese is melted take the pan out of the oven and lightly drizzle with warmed gravy.  Add salt and pepper to taste.
Enjoy!