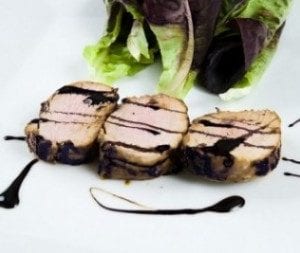 Print Recipe
Pork with Blueberry Sauce
A unique and delicious way to use blueberries, this sweet and savory sauce would also work great with chicken. The blend of berries and chicken stalk is wonderful!
Ingredients
2 pounds boneless pork loin*, cut crosswise into ¾" slices
Salt and pepper to taste
¼ cup (60 ml) flour
2 tablespoons (30 ml) olive oil
1 small onion, finely chopped
1 ¾ cups (420 ml) chicken broth
1 cup (240 ml) Snowcrest Frozen Blueberries
2 tablespoons (30 ml) butter
Directions
In a medium bowl, season the pork with salt and pepper. Add the flour and coat the pork by tossing.
In a large skillet, heat the olive oil over medium heat. Shake off any excess flour then add the pork to the skillet and cook, turning once, until browned, about 5 minutes total.
Transfer to a clean dish.
Add the chopped onion to the skillet and cook, stirring, over medium-high heat for 1 minute.
Add the chicken broth and Snowcrest Frozen Blueberries, bring to a boil and cook until reduced by half, about 5 minutes. If desired, strain blueberry mix through a fine sieve and return to skillet**.
Stir in the butter and season with salt and pepper.
Turn off the heat and return the pork and any juices to the skillet.
Divide the pork among 4 plates and spoon the sauce on top.
*Substitute chicken breast for pork loin
**Sauce can be served with whole cooked blueberries, or strained.