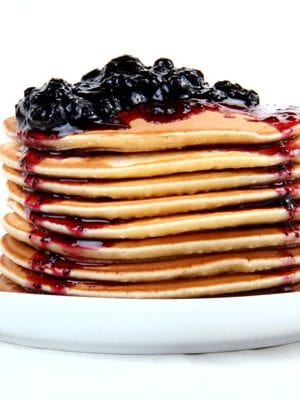 Print Recipe
Tangy Sweet Blueberry Sauce
This tangy-sweet sauce is perfect for use on pancakes, crepes, waffles, ice cream, toast, stirred in yogurts, or as filling in cakes or muffins.
Ingredients
3 cups (750 ml) frozen Snowcrest Blueberries
1 cup (250 ml) granulated sugar (or if less is desired can use 3/4 cup (190 ml)
2 ½ tsp (12.5 ml) cornflour
¼ tsp (1.25 ml) ground cinnamon (can use less is you're not a cinnamon person)
Pinch of salt
⅔ cup (160 ml) water
1 tsp (5 ml) lemon zest (freshly grated)
1 tbsp (15 ml) lemon juice (freshly squeezed preferred), or to taste
Directions
Place the sugar, cornflour, cinnamon, salt, and water in a medium sized saucepan and stir until smooth.
Gently stir in the blueberries and place the saucepan over medium heat.
Simmer the sauce until the liquid thickens, stirring occasionally (about 8 – 10 minutes). It is okay if some of the blueberries break down and others remain whole. For a thicker consistency simmer sauce longer.
Remove from heat and stir in lemon zest and juice. Taste and add more lemon juice if needed. Let cool and then cover and refrigerate for up to a week.