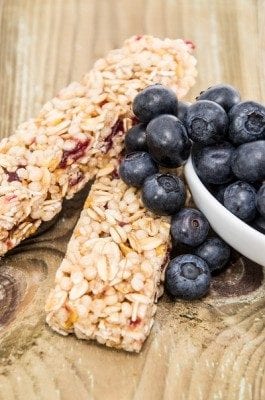 Print Recipe
Maple Blueberry Granola Bars
Give your morning a healthy boost. Maple Syrup and Snowcrest Frozen Blueberries add a sweet punch to these homemade Granola Bars. 
Ingredients
2 ½ cups (600 ml) rolled oats
¼ cup (60 ml) light brown sugar
⅓ cup (80 ml) pure maple syrup
1 large egg
1 tsp. (5 ml) pure vanilla extract
½ tsp. (3 ml) ground cinnamon
¼ tsp. (1 ml) salt
½ cup (64 g) flour
1 ½ cups (360 ml) Snowcrest Frozen Blueberries (not thawed)
Directions
1. Preheat oven to 350º F.  Line a 9x13x2 inch pan with aluminum foil making sure to leave an inch overhanging on all sides (this will make it easier to take out of the pan once baked).   Coat the lined pan with non-stick cooking spray.
2. Combine oats and 2 tablespoons vegetable oil, spread on a rimmed baking sheet and bake for 12 to 15 minutes, stirring several times, until golden brown. Cool.
3. Beat together brown sugar, maple syrup, remaining 3 tablespoons vegetable oil, egg, vanilla, cinnamon and salt. Beat in the flour until smooth. Stir in cooled oatmeal mixture until blended, immediately stir in the Snowcrest Frozen Blueberries (not thawed).
4. Press the dough mixture the lined pan. Press firmly.
5. Bake for 30-35 minutes until lightly browned.
6. Cool. Remove from pan by lifting the overhanging foil. Cut into 24 pieces.  Granola bars can be frozen if desired.