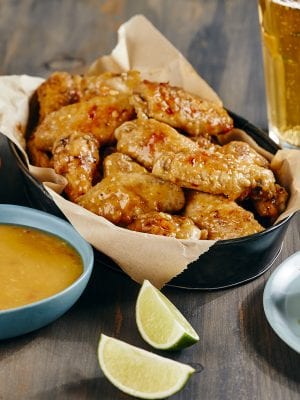 Print Recipe
Sweet & Spicy Mango Chicken Wings
Perfect for a game night in!
Ingredients
1 kg Chicken Wings
1 Tbsp garlic powder
1 Tbsp onion powder
1 tsp smoked paprika
1/2 tsp Cayenne
SAUCE
3/4 cup Snowcrest Mango Chunks, defrosted & pureed
2 Tbsp (22 mL) honey
1 Tbsp (11 mL) garlic paste
1 Tbsp (11 mL) hot chili paste
2 Tsp (7.5 g) cornstarch
2 tbsp (30 mL) water
Directions
Preheat oven to 375 degrees F (190 C).
In a small bowl mix the dry spices together.
In a large mixing bowl, add the chicken wings and apply the dry rub to the wings.  *If you want your wings to crisp up add a pinch of sugar to the dry seasoning.
Place the seasoned chicken wings on a fry rack or cookie sheet with parchment paper and bake in the oven for 30 – 45 minutes.
While the wings are cooking prepare the sauce.
In a small sauce pan and the cornstarch and water and make a slurry, then add the rest of the wet ingredients and mix well.
Cook over medium heat until the sauce has thickened to a gravy like consistency.
Once the wings are cooked remove from the baking sheet and place in a clean bowl, add the sauce and toss until the wings are completely covered.