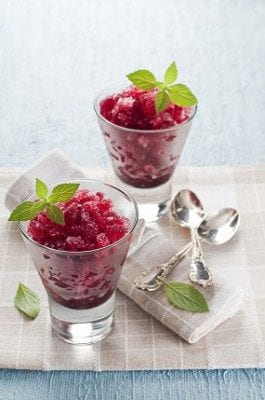 Print Recipe
Strawberry Lemon Granita
Summer is here!  This lemony-sweet icy treat is sure to satisfy your cravings!
Ingredients
1 cup (240 ml) hot water
⅓ to ½ cup (80 to 120 ml) sugar
Zest and juice from one lemon
3 cups (720 ml) Snowcrest Frozen Strawberries (thawed)
Directions
Place hot water, sugar, lemon zest and juice in a bowl and stir until sugar dissolves.
Blend the Snowcrest Strawberries in a food processor until they are smooth.  Add the strawberry puree to the sugar syrup and mix until combined.
Pour mixture into 13x9x2-inch nonstick metal baking pan.
Freeze until it is icy around the edges, about 25 minutes.
Using a fork, stir the icy portions into the middle of the pan.
Freeze until mixture is frozen, stirring edges into the center every 20 to 30 minutes, about 1  ½ hours.
Using a fork, scrape the granita into flaky crystals.
Cover tightly and freeze. (Can be made 1 day ahead- keep frozen)
Scrape Strawberry Granita into bowls.
Garnish with berries and serve.