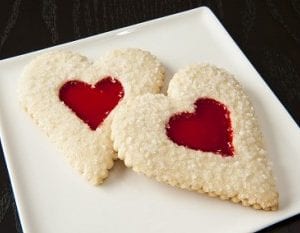 Print Recipe
Strawberry Heart Sugar Cookies
Happy Valentines Day! Impress your loved one with these "oh so sweet" cookies.
Ingredients
3 cups (720 ml) all purpose flour
1 tsp (5 ml) baking powder
½ tsp (3 ml)salt
1 cup (240 ml) butter, room temperature
1 ¼ cup (300 ml) sugar
1 large egg
1 ½ tsp (8 ml) vanilla extract
1 tsp (5 ml) lemon zest (optional)
¼ cup (60 ml) course decorating sugar
Strawberry Puree (recipe below)
Directions
In a medium bowl, whisk together flour, baking powder and salt.
In a large bowl, cream together butter and sugar until light and fluffy. Beat in egg and vanilla extract (and lemon zest, if using), then gradually blend in the flour mixture with the mixer on low speed. When the dough comes together, divide it in half.
Press each portion of the dough into a flat disc and wrap well with plastic wrap. Refrigerate for at least 1 hour before using.
Preheat oven to 350F. Line a baking sheet with parchment paper.
Take chilled dough out of the refrigerator and roll it out on a lightly floured surface until it is about 1/4-inch thick.
Use a lightly floured heart shaped cookie cutter to cut out all of the cookies.
Use a smaller heart shaped cookie cutter to cut the centres out of half of the cookies, which will later be used as the top.
Sprinkle course sugar over the cookies that will be used for the top (use coloured sugar if desired). Then transfer cookies to prepared baking sheet.
Bake for 11-14 minutes, depending on the size of the cookies, until cookies are just beginning to turn light brown at the edges.
Cool cookies for 5 minutes on the baking sheet, then transfer to a wire rack to cool completely.
Once cookies are cooled, spread a thin layer of strawberry puree over the bottom cookies.  Place a top cookie over each bottom cookie (like a sandwich) and enjoy!
Yield depends on the size of the cookie cutters used, but this will make a large batch of cookies!
Simple Strawberry Puree:
2 cups (480 ml) Snowcrest Frozen Strawberries (slightly thawed)
Sugar or honey, as desired
Directions:
Place Snowcrest Frozen Strawberries in a food processor or blender. Process until liquid with pulp.
If desired or needed, sweeten with sugar or honey.
Note: 2 cups of berries will yield about 1 ½ cups puree.  If desired, substitute strawberry with raspberry.