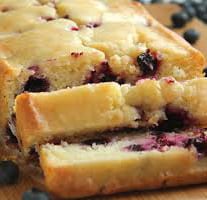 Print Recipe
Blueberry Lemon Bread
A refreshing combination for any time of the year!
Ingredients
1 cup (250 mL) frozen Snowcrest Blueberries (for a bread bursting with blueberries use 1 ¼ cup)
1 ½ cup (375 mL) flour
1 tsp (5 mL) baking powder
¼ tsp (1.25 mL) salt
6 tbsp (90 mL) unsalted butter (room temp)
¾ cup (190 mL) sugar
2 eggs
½ tsp (2.5 mL) vanilla
1 tbsp (15 mL) lemon zest
½ cup low fat milk (split into 2)
¼ cup (65 mL) sugar
2 tbsp (30 mL) lemon juice (preferably freshly squeezed)
Directions
Preheat oven to 350° F.
Grease a 9 x 5 bread pan.
In a bowl mix together flour, baking powder and salt.
In a separate bowl beat butter until soft, add sugar and beat until light and fluffy, then add eggs beating them in one at a time, add vanilla, and lemon zest.
Add the flour mixture in 3 additions alternating with the milk that is split into 2. In other words, mix a third of the flour mixture then mix ¼ cup milk, mix a third of the flour then mix the remaining milk and the remaining flour mixture.
Fold in the frozen Snowcrest Blueberries.
Bake for 55-65 minutes depending on oven.
To make the lemon glaze bring the lemon juice and sugar to a boil stirring constantly until sugar is dissolved.
Once the loaf is baked let cool for 30 minutes in the pan, poke small holes with a toothpick in the loaf and then apply the glaze.