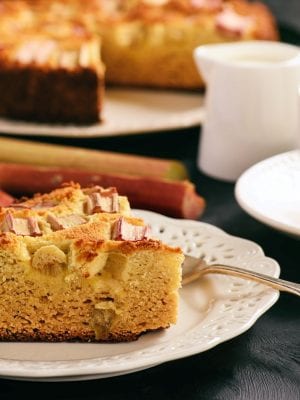 Print Recipe
Rhubarb Cake
Ingredients
2 cups (200 g) Snowcrest® Cut Rhubarb
½ cup (115 g) butter, softened
1 ¼ cups (250 g) sugar, divided
1 large egg
1 cup (240 ml) buttermilk
1 teaspoon (5 ml) vanilla extract
2 cups (256 g) all-purpose flour
1 teaspoon (4 g) baking soda
½ teaspoon (2 g) salt
½ teaspoon (2 g) ground cinnamon
Directions
In a bowl, cream butter and 1 cup (200 g) sugar. Add the egg and beat well.
In a separate bowl, combine buttermilk and vanilla and set aside.
In another bowl, combine flour, baking soda and salt.
Mix all wet and dry mixtures together and stir in rhubarb.
Spread in a greased 13×9-in. baking pan.
Combine the remaining sugar with cinnamon and sprinkle over batter.
Bake at 350°F for 35 minutes or until golden brown.