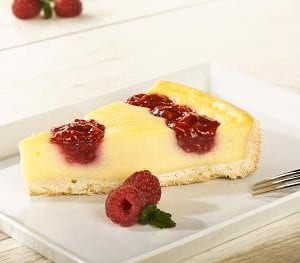 Print Recipe
Raspberry Cheese Cake
Raspberries are the perfect compliment to this simple cheese cake. 
Ingredients
1 ½ cups (360 ml) Graham Cracker Crumbs
3 tbsp. (45 ml) sugar
⅓ cup (80 ml) butter or margarine, melted
4 pkg. (8 oz. each) Cream Cheese, softened
1 cup (240 ml) sugar
1 tsp. (5 ml) vanilla
4 eggs
¾ cup (180 ml) Snowcrest Frozen Raspberries
Directions
Heat oven to 325°F.
Mix graham crumbs, 3 tbsp. sugar and butter; press onto the bottom of a 9 inch springform pan.
Beat cream cheese, 1 cup sugar and vanilla with mixer until well blended. Add eggs, 1 at a time, mixing on low speed after each just until blended. Pour over crust.
Bake 35 minutes and remove from oven.
Quickly place the Snowcrest Frozen Raspberries over the top of the cake, in a circular pattern.
Put cake back in the oven and cook for another 20 minutes or until center is almost set. Loosen cake from rim of pan; cool before removing rim.
Refrigerate 4 hours.