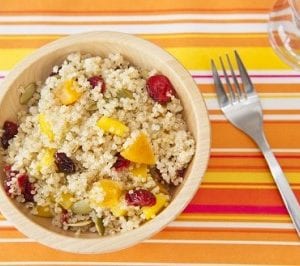 Print Recipe
Roasted Cranberry Quinoa Salad
This delicious combination of lemon, roasted cranberries and quinoa is sure to get your attention!
Ingredients
3 cups (720 ml) water
1 ½ (360 ml) cups quinoa
1 clove garlic
1 tbsp. (15 ml) lemon juice
2 tbsp. (30 ml) olive oil
2 tbsp. (30 ml) balsamic vinegar
1 ½ cups (360 ml) roasted Snowcrest Frozen Cranberries (roasting instructions below) *
1 cup (240 ml) diced yellow pepper
¼ cup (60 ml) sunflower seeds
1 tbsp. (15 ml) rosemary
Directions
Roasted Cranberry Directions:
You will need:
1 ½ tbsp. (25 ml) honey
3 tbsp. (45 ml) sugar
Splash of olive oil and salt to taste
Preheat oven to 325 degrees.
Line a baking/roasting pan with foil that overhangs and place Snowcrest Frozen Cranberries inside.
Pour the sugar and a sprinkle or two of salt over the cranberries, toss.
Drizzle honey over the cranberries and a generous amount of olive oil.
Toss again and place in the oven.
Roast until the cranberries are soft and sweetened, about 20 minutes. You want them to be soft and sweet enough to eat on their own (they will of course still have a tang to them) but not so soft they have broken down into a sauce. Set aside to cool
Directions for Quinoa Salad
Boil water and add quinoa; simmer until most water is absorbed (about 15 minutes).
Add the garlic, lemon and salt to taste to the cooking water while quinoa is simmering.
Remove quinoa from the heat, and stir in the oil and vinegar.
Toss the quinoa with the yellow peppers, roasted cranberries, sunflower seeds, and rosemary.
Chill until ready to serve. Keeps several days in the fridge, and works great for picnics.