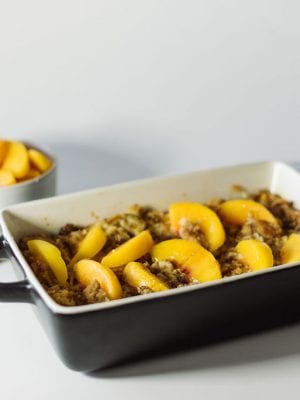 Print Recipe
Peach Bread Pudding
A classic family favourite.
Ingredients
1½ cup (337gg) Snowcrest Sliced Peaches - 1 cup chopped,½ cup (8-10 pieces) set aside for garnish.
2 loaves (approximately 7 cups) of slightly stale bread, cut in cubes
4 eggs
½ (75g) cup raisins
1 ½ cups (375ml) milk
1 cup (250ml) heavy cream (or any other cream or even more full fat milk)
3 tbsp (40g) unsalted butter, melted and cooled
½ cup (110g) white sugar
½ tsp nutmeg
1 tsp (5ml) vanilla
1/4 cup brown sugar
Directions
1. Preheat oven to 180C/350F.
2. Place eggs in a large bowl, whisk briefly and add the melted butter – set aside.
3. In a large bowl mix together the milk,cream,sugar,nutmeg, vanilla,raisins and chopped peaches.
4.Add the cubed bread and let stand for 3-5 minutes or until the bread has completely absorbed the milk mixture.
5. Mix the egg mixture to the bread mixture and mix thoroughly.
6. Add the mixture to a 10-12 inch baking dish. Top with sliced peaches and sprinkle with brown sugar.
7. Bake at 350F for 35-40 minutes.