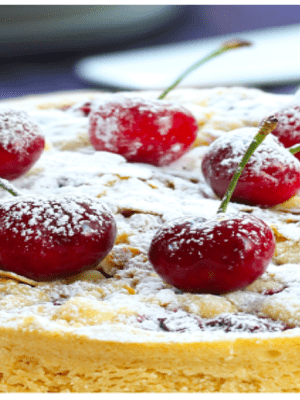 Print Recipe
Cherry Clafoutis
Ingredients
2 cups (450 g) Snowcrest® Dark Sweet Pitted Cherries (thawed)
2 tbsp (30 g) butter, melted
4 eggs
1 cup (240 ml) milk
¾ cup (100g) flour
pinch of salt
½ cup (100 g) sugar
½ tsp almond extract (or 3 drops of almond essence)
½ tsp almond extract (or 3 drops of almond essence)
Powdered sugar for dusting the top
Directions
Preheat the oven to 350F (180C). Grease a round 10 inch (26cm)  baking dish with butter. Dust with about 2 tbsp of sugar.
Drain and arrange the cherries in a single layer; set aside until you prepare the batter.
Mix eggs with remaining sugar and salt. Stir in flour. Add milk, vanilla extract, almond extract and mix well until well blended. Add melted butter and stir to combine. The result is similar to crepes mixture.
Pour the mixture over the cherries.
Bake for about 40-45 minutes until puffed and golden brown. Cool on a rack for few minutes while it deflates. Sprinkle with powdered sugar before serving. Serve warm or chilled.