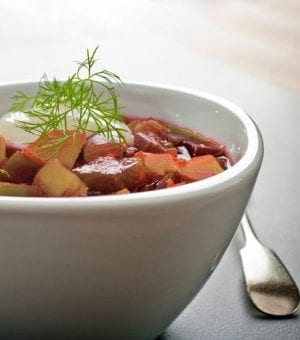 Print Recipe
Rhubarb Vegetable Soup
This comforting soup is full of nutrients and it's quick and easy to make. Garnish with parsley and a dollop of yogurt or sour cream.
Ingredients
1 cup (240 ml) dried lentils (a mixture of dried beans, barley, peas and lentils would also work)
2- 3 tbsp. (30- 45 ml) vegetable oil
2 cups (480 ml) finely chopped carrots
2 cups (480 ml) chopped celery
1 ½ medium size onions, chopped
1 cup (240 ml) Snowcrest Frozen Rhubarb
6 cups (1 ½ liters) boiling water
3 bouillon cubes (chicken, beef or vegetable base)
⅛ cup (30 ml) dried parsley
salt and pepper, to taste
Directions
Before starting, soak the lentils in a bowl of boiling water.
In a separate large bowl, mix the soup base in 6 cups boiling water to dissolve.
In a large pot, heat vegetable oil over medium heat, add the onions and salt and pepper to taste.
Add the chopped carrots and celery and sauté together for about 6 minutes, or until vegetables have started to soften.
Add the Snowcrest Frozen Rhubarb and the parsley, and sauté for a bit longer.
Drain the lentils and add them to the pot.
Add the soup base and bring the entire mixture to a boil.
Reduce heat to low, lift the pot lid slightly, and simmer mixture for about 25 minutes or until the lentils are tender.
Allow the soup to cool slightly, then garnish and serve.
Enjoy!