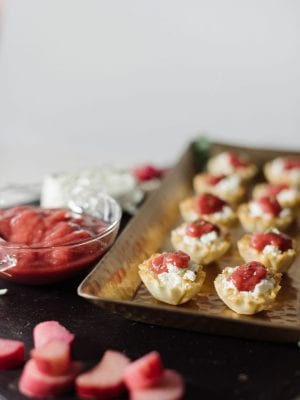 Print Recipe
Rhubarb & Tarragon Canape
Four star appetizers in under 10 minutes.
Ingredients
1 cup (225g) Rhubarb Compote (see Rhubarb Compote Recipe)
1 package (15 pieces) mini fillo shells
1 500g piece of Goat Cheese
2 Tbsp Tarragon (dry or fresh)
Directions
1. Remove the filo shells from the packaging, add a dollop of Goat Cheese, top with Rhubarb Compote, sprinkle with Tarragon and serve.
*Note – can be served hot as well.
Bake in oven at 300 degrees for 8 minutes.