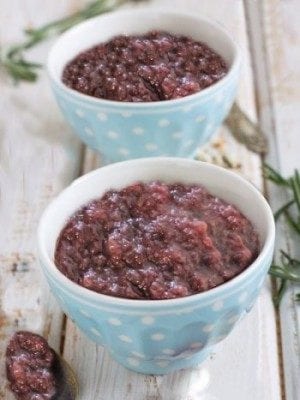 Print Recipe
Blueberry Applesauce with Pork baby food
(7 months+)
Raise Good Eaters! Make your own baby food!  This recipe is packed with flavour and nutrients for your growing baby.
Ingredients
4oz pork loin cubed
1 apple, peeled, cored and diced
¼ cup (60 ml) Snowcrest Frozen Blueberries
½ cup (120 ml) homemade or low sodium chicken stock
Directions
Put the cubed pork into a small saucepan and pour in the stock. Simmer for 5 minutes.
Add the diced apple and the Snowcrest Frozen Blueberries, simmer for a further 5-10 mins, until the apple is tender and the pork is cooked through.
Puree or mash all the ingredients together and serve with pasta, rice or potatoes.