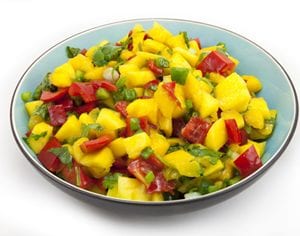 Print Recipe
Mango Salsa
This combination of hot and sweet is perfect to serve as an appetizer or as a topping for fish or chicken dishes.
Ingredients
1 ½ cups (247 g) Snowcrest Frozen Mango Chunks, partially thawed and diced small
½ medium red onion, finely chopped
1 Jalapeno chile, minced (include ribs and seeds for a hotter taste if desired)
1 small cucumber, peeled and diced (about 1 cup)
3 Tbsp (3 g) fresh cilantro leaves, chopped
3 Tbsp (45 ml) fresh lime juice
Salt and pepper to taste
Directions
Combine all ingredients in a bowl. Season to taste with salt and pepper.
If the salsa ends up being a little to hot or acidic for your taste, you can temper by adding some diced avocado.
Also good with diced red bell pepper and green onion.