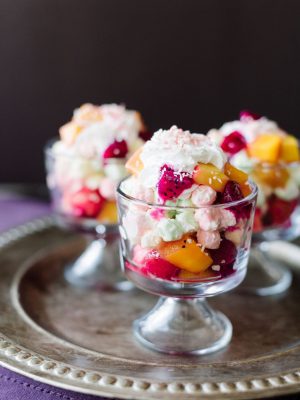 Print Recipe
Dragon Fruit Ambrosia Parfait
A leveled up version of a classic salad.
Ingredients
1 cup (240 g) Snowcrest Dragon Fruit Blend (thawed)
1 container (500g) vanilla yogurt
1/2 cup coconut (toasted)
1 bag multi coloured mini marshmallows
Directions
In a parfait glass, layer as follows:Dragon Fruit Blend, yogurt, mini marshmallows, yogurt, Dragon Fruit Blend.
Top with a dollop of yogurt and garnish with toasted coconut.
Note – you can make the coconut pink by adding some of the dragon fruit blend juice to white coconut before toasting in a pan.
Alternately – can add all ingredients to a mixing bowl and make Dragon Fruit Ambrosia Salad.