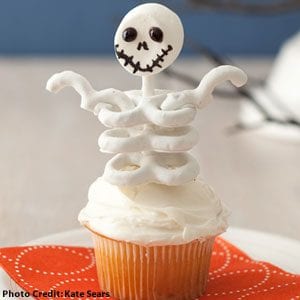 Print Recipe
Blueberry Cupcakes Halloween Style
Ingredients
1 ¼ cups (315 ml) frozen Snowcrest Blueberries
3 ¼ cups (815 ml) all purpose flour
1 ¼ cups (315 ml) sugar
1 tbsp (15 ml) baking powder
½ tsp (2.5 ml) coarse salt
¼ tsp (1.25 ml) baking soda
6 tbsp (90 ml) unsalted butter, melted
¼ cup (65 ml) canola oil
2 large eggs
1 cup (250 ml) low-fat yogurt
1 cup (250 ml) whole milk
1 tsp (5 ml) vanilla extract
1 tsp (5 ml) grated lemon peel
Directions
Frosting Recipe:
2 ¼ cups (565 ml) powdered sugar
10 tbsp (150 ml) unsalted butter, room temperature
½ cup plus 2 tbsp (155 ml) maple sugar
½ tsp (2.5 ml) coarse salt
1 ¼ tsp (6.25 ml) vanilla extract
4 tsp (20 ml) whole milk (add more if needed based on desired consistency of frosting)
Halloween treats for decorating (gummy worms, nerds, candy eyes, etc….)
If desired add food colouring of orange, green, or any colour which will work with your Halloween idea.
Preparation
Preheat oven to 350°F.
Line two 12-cup cupcake pans with paper liners.
Sift flour and next 4 ingredients into large bowl.
Whisk melted butter and oil in medium bowl. Add eggs; whisk to blend. Whisk in yogurt, milk, vanilla extract, and peel.
Add yogurt mixture to dry ingredients; whisk just to blend.
Stir in frozen blueberries.
Divide batter among the two cupcake pans.
Bake cupcakes until toothpick inserted in the centre comes out clean, about 20-25 minutes. Cool on rack before applying frosting.
For frosting:
Combine first 5 ingredients in medium bowl. Add 4 teaspoons milk. Using electric mixer, beat until well blended and fluffy, adding more milk by teaspoonfuls if dry (small granules of maple sugar will still remain), about 4 minutes.
Spread frosting over top of cupcakes.
Decorate with your favourite Halloween treats. Let your creative mind go wild, the potential for some great Halloween treats is unlimited.