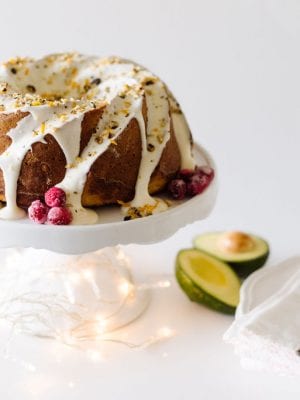 Print Recipe
Avocado Cake with Marzipan Icing
Ingredients
1 ½ cup Snowcrest Avocado Chunks, defrosted then pureed
½ cup lime juice
1 cup (220g) butter, melted and cooled to room temperature
1 cup (200g) sugar
1 tsp. vanilla extract
4 eggs
3 ¼ cups (350g) all-purpose flour
3 ¼ tsp. baking powder
3 ½ tbsp.(50ml) milk
Zest of 3 limes
a pinch of salt
1 block (250g) of cream cheese
2 ½ cup icing sugar (depending on the consistency that you want, you may need more or less icing sugar.)
4 oz soft marzipan
2 tbsp water
¼ tsp cream of tartar
Directions
Cake
1. Preheat the oven to 350?F (180°C). Grease and flour 10 cup Bundt pan.
2. Defrost then purée avocado (use an immersion blender, food processor or a fork). Add the butter and vanilla and mix well.
3. In a large bowl blend sugar with lime zest, let rest for 10 mins
4. Add flour, baking powder and salt. Mix well.
5. Combine avocado/butter mix with dry ingredients; adding one egg at a time as well as milk.
6. Pour in the batter and even out the surface. Bake for 60 minutes until a toothpick inserted in center comes out clean. Let cool in the tin for 10 minutes.
7. place wire rack over Bundt pan and invert, gently shaking side to side.
8. Let cool completely before icing
9. Ice with Marzipan Icing, garnish and serve.
Icing
1. Chop the marzipan into small pieces and add 2 tbsp. of water, microwave for 30-50 seconds, blend completely.
2. Add the cream cheese and softened marzipan mixture to a mixing bowl and blend on medium until completely incorporated.
3. Add the cream of tartar to the icing sugar and add icing sugar mixture ½ cup at a time, until icing is completely mixed.
*If your icing is lumpy due to the marzipan, use a high speed blender to mix the icing until the lumps are removed.
4.Let icing stand in refrigerator to firm up – at least 2 hours.
5.Once icing is set, pour over cake just before serving.
Garnish as desired