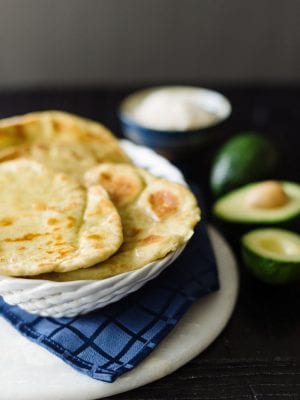 Print Recipe
Avocado Naan
Ingredients
1 cup (230g) Snowcrest Avocado Chunks, pureed
½ cup (125g) plain yogurt room temperature
1 tbsp. (15ml) honey
¼ cup (60ml) warm water
2¼ tsp. (¼ oz) active dry yeast
2¼ cups (320g) all-purpose flour
Directions
1. In a small bowl, add the sugar, warm water, and yeast together. Stir to combine well. The yeast will is activated when it becomes foamy, about 10 minutes.
2. In a food processor, puree avocado and combine with yogurt.
3. Place flour in a large bowl and make a well in the middle. Add the yeast mixture, yoghurt/avocado mixture and oil, knead the dough until the surface becomes smooth and shiny, about 10 minutes.
5. Cover the dough with a damp cloth and let it rise in a warm place (for example: beside the stovetop or warm oven). The dough should double in size
6. Divide the dough into 8 equal portions. Roll the dough to a 8″ circle using a rolling pin.
7. Heat up a skillet (cast-iron preferred) over high heat and lightly grease the surface with some oil to avoid the dough from sticking to the skillet. Place the dough on the skillet. When it puffs up, bubbles and slightly burnt spots appear, flip it over and cook the other side. Repeat the same until all dough are done.
Brush the naan with the melted butter, serve warm.