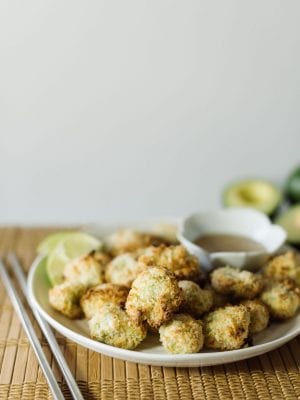 Print Recipe
Baked Avocado Tempura with Hoisin Aioli
Ingredients
1 bag (600g) Snowcrest Avocado Chunks partially defrosted
1 lime
1 cup corn starch
2 eggs beaten
1½ cups panko breadcrumbs
1 Tbsp butter or margarine, melted
½ tsp garlic powder
½ tsp onion powder
½ tsp paprika
½ tsp salt
¼ tsp coarse ground black pepper
Directions
1. Preheat oven to 450 F. Line a baking sheet with foil and place a wire rack on the sheet. Set aside.
2. Pour the avocado chunks into a bowl and squeeze half of a lime onto the avocado, let stand while the oven preheats, to partially thaw. Save the other half of the lime for serving with the tempura
3. Set up three bowls in an "assembly line" In the first bowl, place the 1 cup of cornstarch and add a pinch of salt and a few grinds of black pepper.
4. Crack the eggs into the middle bowl and beat lightly.
5. In the last bowl, combine the panko and melted butter and mix with your fingers to coat. Add garlic powder, onion powder, paprika, salt, and pepper and stir to combine.
6. Dredge each avocado chunks one at a time through the cornstarch, the beaten egg and then coat thoroughly with the panko and place on the wire rack.
7. Bake for 10 minutes, until panko is lightly browned.
Serve with Hoisin Aioli and lime wedges.
*Note – if you want a bit of heat add sriracha to the egg wash.