Organic Berry Blend – 600 g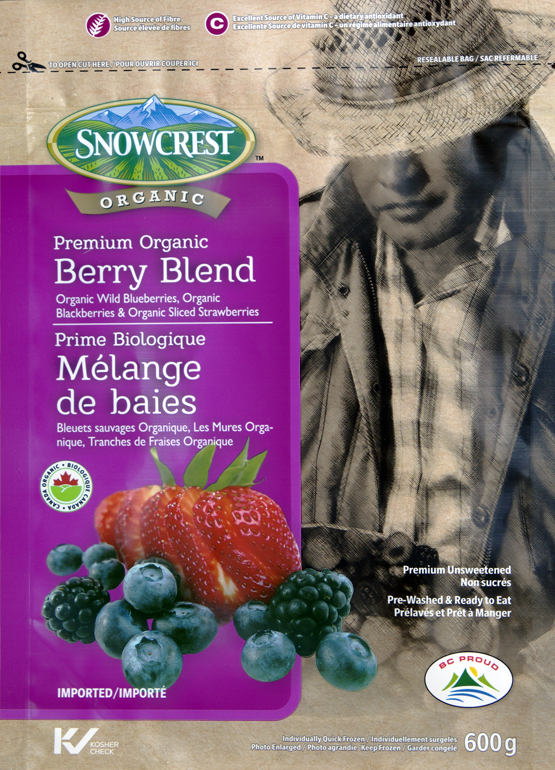 Healthy & Delicious Just Got Easier!
Snowcrest Organic Berry Blend is a delicious mix of plump, juicy & sweet organic wild blueberries, organic sliced strawberries & organic blackberries. This scrumptious treat is 100% all natural with no pesticides and is loaded with antioxidants and is a source of vitamins, minerals and dietary fibre.Use in place of fresh fruit in smoothies, muffins, pies and other desserts or as a topping for cereal, yogurt and ice cream.Thanks for letting us be a part of your family's diet.
Ingredients:
Organic Wild Blueberries
Organic Blackberries
Organic Sliced Strawberries
Health & Nutritional Facts of Organic Berry Blend
Blackberries are packed with numerous plant nutrients such as vitamins, minerals, anti-oxidants, and dietary fibers that are essential for optimum health.
They are very low in calories and rich in soluble and insoluble fibre. Xylitol, a low-calorie sugar substitute present in the fruit fibres, absorbs more slowly than sugar, and does not contribute to high blood sugar levels.
Blackberries have significantly high amounts of phenolic flavonoid phytochemicals such as anthocyanins, ellagic acid tannin), quercetin, gallic acid, cyanidins, pelargonidins, catechins, kaempferol and salicylic acid. Scientific studies show that these antioxidant compounds may have potential health benefits against cancer, aging, inflammation, and neurological diseases.
Blackberries are an excellent source of vitamin C, which is a powerful natural antioxidant. Consumption of fruits rich in vitamin C helps develop resistance against infectious agents, counter inflammation, and scavenge harmful free radicals from the body.
They contain adequate levels of vitamin A, vitamin E, and vitamin K and in addition, they are rich in many other health promoting flavonoid poly-phenolic antioxidants such as lutein, zeaxanthin, and ß-carotene in small amounts. Altogether, these compounds help act as protective scavengers against oxygen-derived free radicals and reactive oxygen species (ROS) that play a role in aging and various disease processes.
Blackberries have an ORAC value (oxygen radical absorbance capacity, a measure of anti-oxidant strength) of about 5347µmol TE per 100 grams.
Further, blackberries contain good amount of minerals like potassium, manganese, copper, and magnesium. Copper is required in the bone metabolism as well as in production of white and red blood cells.
They contain moderate levels of the B-complex group of vitamins. they contain very good amounts of pyridoxine, niacin, pantothenic acid, riboflavin, and folic acid. These vitamins act as cofactors to help the body metabolize carbohydrates, proteins, and fats.
Try Our Frozen Product Lines