Cut Rhubarb – 600 g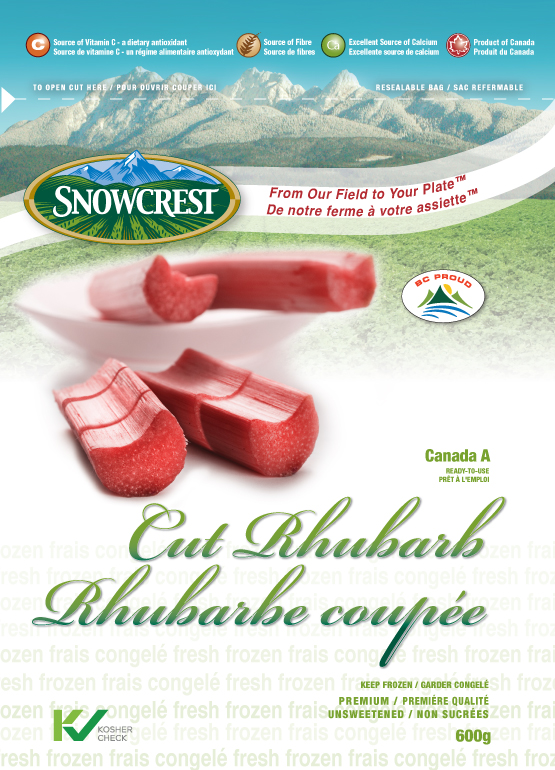 Snowcrest Rhubarb comes in 1/2" cut pieces, the refreshing yet tart flavour makes it perfect for use as a topping. Rhubarb is 95% water and is a source of potassium, vitamin C, dietary fibre and vitamin A. Snowcrest rhubarb is grown in the lavish and immaculate conditions of British Columbia, Canada and is harvested and frozen at the "peak of perfection"™.
Ingredients:
Health & Nutritional Facts of Rhubarb
Rhubarb is one of the least caloric vegetables. Nonetheless, it contains some vital phyto-nutrients such as dietary fiber, poly-phenolic anti-oxidants, minerals, and vitamins. Further, its petioles contain no saturated fats or cholesterol.
The stalks are rich in several B-complex vitamins such as folates, riboflavin, niacin, vitamin B-6 (pyridoxine), thiamin, and pantothenic acid.
Red colored stalks contain more vitamin-A than green varieties. Further, the stalks also contain small amounts of poly-phenolic flavonoid compounds like ß-carotene, zeaxanthin, and lutein. These compounds convert to vitamin A inside the body and deliver the same protective effects of vitamin A on the body. Vitamin A is a powerful natural anti-oxidant and is required by the body for maintaining the integrity of skin and mucus membranes. It is also an essential vitamin for vision. Research studies suggest that natural foods rich in vitamin-A helps protect the body against lung and oral cavity cancers.
As in other greens such as kale and spinach, rhubarb stalks also provide good amounts of vitamin-K, 100 g of fresh stalks provide 29.3 µg or about 24% of daily recommended intake. Vitamin-K has a potential role in bone health by promoting osteotrophic (bone formation and strengthening) activity. Adequate vitamin-K levels in the diet help limit neuronal damage in the brain, thus, has an established role in the treatment of Alzheimer's disease.
Rhubarb stalks also contain healthy levels of minerals like iron, copper, calcium, potassium, and phosphorus. However, most of them do not absorb into the body as they are subject to chelating by oxalic acid into insoluble complexes and are excreted from the body.
Try Our Frozen Product Lines