Fruit Medley – 600 g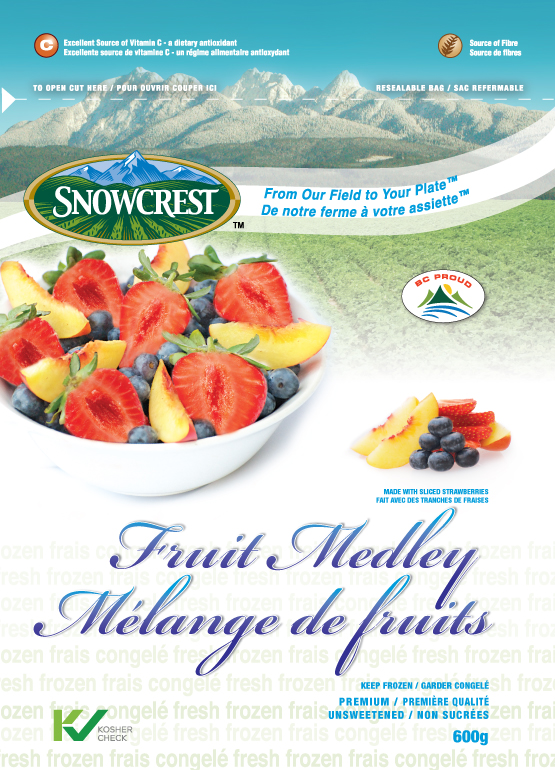 Snowcrest Fruit Medley is a colourful blend of fresh-picked, tender peaches, plump strawberries and juicy, sweet blueberries. Together the blend is packed with an array of antioxidants, vitamins, minerals, that help maintain a healthy diet and lifestyle.All the fruits are harvested and frozen at the "peak of perfection"™ and as a result the combination is a perfect blend of taste and nutrition.
Ingredients:
Strawberries
Peaches
Blueberries
Health and Nutritional Facts of Peaches
Also see blueberries and strawberries for nutritional information of the berries in Snowcrest Fruit Medley.
Peaches are an impressive source of antioxidant vitamin C. Vitamin C has anti-oxidant effects and is required for connective tissue synthesis in the body. Consumption of foods rich in vitamin C helps the body develop resistance to infectious agents and helps scavenge harmful free radicals.
Peaches are also a moderate source of vitamin A and ß-carotene. ß-carotene is a pro-vitamin which converts into vitamin A in the body. Vitamin A is essential for vision. It is also required for maintaining healthy mucus membranes and skin. Consumption of natural fruits rich in vitamin A is known to offer protection from lung and oral cavity cancers.
They are rich in many vital minerals such as potassium, fluoride and iron. Iron is required for red blood cell formation. Fluoride is a component of bones and teeth and is important for prevention of dental caries. Potassium is an important component of cell and body fluids that help regulate heart rate and blood pressure.
Peaches contain many health promoting flavonoid poly phenolic antioxidants such as lutein, zeaxanthin and ß-cryptoxanthin. These compounds help act as protective scavengers against oxygen-derived free radicals and reactive oxygen species (ROS) that play a role in aging and various disease processes.

Try Our Frozen Product Lines