Berry Blend – 1.5 kg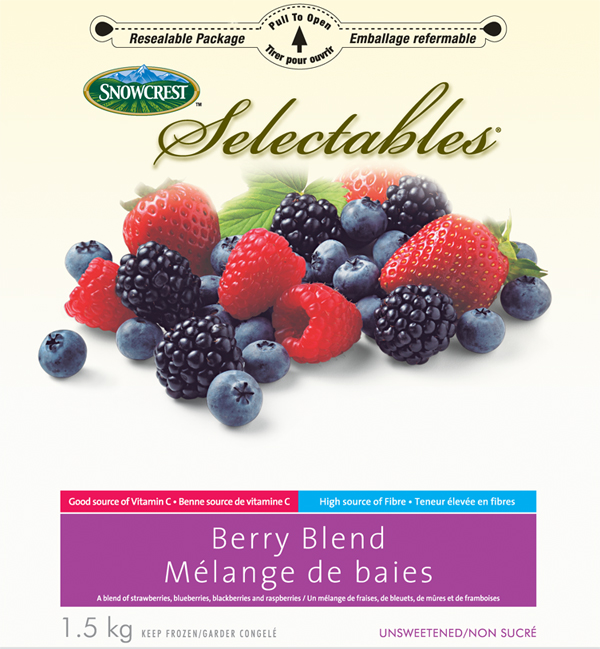 Snowcrest™ Selectables® Berry Blend contains on assortment of strawberries, blueberries, blackberries and raspberries. Our berries are picked when fully ripe and based on their level of sweetness (measured by the BRIX Scale) . At Snowcrest™, we ensure that each delicate berry is flash frozen within hours of harvesting, retaining its just-picked flavour all year round. This vibrant colourful variety of red, blue, and black berries has the perfect blend of juicy, sweet and tangy flavours. They are great in smoothies or as a topping on yogurt, cereals and ice creams. They can be served slightly thawed on their own as a snack, or can also be used to create glazes, dressings, muffins, pies and cobblers. Try Snowcrest™ Selectables® Berry Blend in Very Berry Crisp.
Ingredients:
Strawberries
Blackberries
Blueberries
Raspberries
Health & Nutritional Facts of Blackberries
Also see blueberries, raspberries and strawberries for nutritional information of the other berries in Snowcrest Berry Blend.
Blackberries are packed with numerous plant nutrients such as vitamins, minerals, anti-oxidants, and dietary fibers that are essential for optimum health.
They are very low in calories and rich in soluble and insoluble fibre. Xylitol, a low-calorie sugar substitute present in the fruit fibres, absorbs more slowly than sugar, and does not contribute to high blood sugar levels.
Blackberries have significantly high amounts of phenolic flavonoid phytochemicals such as anthocyanins, ellagic acid tannin), quercetin, gallic acid, cyanidins, pelargonidins, catechins, kaempferol and salicylic acid. Scientific studies show that these antioxidant compounds may have potential health benefits against cancer, aging, inflammation, and neurological diseases.
Blackberries are an excellent source of vitamin C, which is a powerful natural antioxidant. Consumption of fruits rich in vitamin C helps develop resistance against infectious agents, counter inflammation, and scavenge harmful free radicals from the body.
They contain adequate levels of vitamin A, vitamin E, and vitamin K and in addition, they are rich in many other health promoting flavonoid poly-phenolic antioxidants such as lutein, zeaxanthin, and ß-carotene in small amounts. Altogether, these compounds help act as protective scavengers against oxygen-derived free radicals and reactive oxygen species (ROS) that play a role in aging and various disease processes.
Blackberries have an ORAC value (oxygen radical absorbance capacity, a measure of anti-oxidant strength) of about 5347µmol TE per 100 grams.
Further, blackberries contain good amounts of minerals like potassium, manganese, copper, and magnesium. Copper is required in the bone metabolism as well as in production of white and red blood cells.
They contain moderate levels of the B-complex group of vitamins. It contains very good amounts of pyridoxine, niacin, pantothenic acid, riboflavin, and folic acid. These vitamins, acting as cofactors, help the body metabolize carbohydrates, proteins, and fats.
Try Our Frozen Product Lines